All of my social media for business students and clients know about Klout, the measurement index for social media influence. I introduce them to their Klout score at the very beginning of our relationship. Why? Because for all the controversy about the accuracy of Klout, people do look at it. If you are on Hootsuite, as a vast number of Twitter users are, you cannot help seeing it because it is part of everyone's bio. Every major brand uses social media tools that include Klout scores.
On the mainland of America, Klout is used as a screening tool for hiring positions that interact with the public such as sales, and absolutely for positions related to marketing. If in the future you think you might write a book or go into the entertainment business, it would be helpful to start building your social influence now. Book publishers will look at your Klout score to see if you will be able to promote your book. Casting directors look at Klout scores to see if you can promote the project they are considering you for. Record labels expect you to promote your own work. We spoke about Klout at this Digital Hollywood panel about Personal Branding and Company Identity for Entrepreneurs.
I don't tweet or Facebook about Klout much. Like religion and politics, I share my thoughts about it rather privately. As I mentioned, I talk about it with my students and clients because they need to know. When I mention "students" I am referring to the students in my Social Media for Business classes at the Kauai branch of the University of Hawaii for continuing education: Kauai Community College OCET.
The Klout score is controversial because it is not 100% accurate, especially when it comes to evaluating topic influence. Influence is a new science. Klout should only be used a relative index along with other indicators to evaluate the influence of brands and individuals.
I was recently moved to tweet Mark Schaefer's article about Twitter. The important point he made is that brands should use Klout scores at least as one of a number of benchmarks to measure how they are doing. For that reason, social media professionals need to introduce their clients to their Klout score at the beginning of a project.
Why #Klout score may be an appropriate marketing metric http://t.co/yOqGzYOPiz by @markwschaefer via @KerryGorgone

— Linda Sherman Gordon (@LindaSherman) November 19, 2013
Klout Tip:Connect all of the social media platforms that you use
I continually see Twitter accounts with artificially low Klout scores because that Twitter account is only connected to Twitter. When you set up Twitter, your Klout score is generated automatically. Just connecting your Facebook account to your Klout score will often raise it Klout score dramatically. This is especially true on Kauai where the social platform of choice is Facebook.
If your Twitter account is your business, and you don't have a personal Twitter, you can choose to connect your personal Facebook page or your business Facebook page. You can only use your Facebook account for one Klout score.
Note to all my Facebook friends on Kauai who have not yet connected to Klout. Klout suggests to me that I "invite" you to Klout. I would never use their method of doing this because it involves sending an automated message and I NEVER send automated messages (you shouldn't either). So instead I am telling you here.
Your Klout score will look at these social platforms, so if you use them, connect them.
LinkedIn, Twitter, Facebook, GooglePlus, Instagram, Youtube and FourSquare.
Connect Twitter even if you barely use it. It simply makes your account easier to find and easier to manage.
How to connect your other social accounts to your Klout score:
– First log onto your Twitter account.
– Now sign into Klout.com using your Twitter account.
– Click on "settings" low on the left column of your Klout.com page.
– Choose "networks."
– Or after logging in to Klout, go straight to here: http://klout.com/#/settings/networks
– Connect any social networks that you are active on.
– You Klout score will not go up immediately, it takes about three days
On Kauai, Ron Wiley's personal Facebook Timeline is news central for the community. This beloved radio show talk host is also on Twitter @RonWileyKong, even though there is not much local action on Twitter. I am really glad because it gives me an opportunity to talk to him there from @KauaiTalk. A while back, I suggested to Ron that he connect his Klout score. It went up about 20 points.
If you want to get started on Twitter, I tell students and clients to participate in the Twitter chat called BlogChat on Sundays at 9PM ET (3pm or 4pm on Hawaii, depending on the daylight savings time season). Here are my tips on how to participate.
While Twitter is not popular on Kauai, if your business interacts with customers in North America, Twitter is a tool that can help you. Having a local network on Kauai and talking to each other will help to build your presence on Twitter.
These are Twitter accounts on Kauai that I recommend to my students to follow because they are likely to interact back with you. I do not include accounts that do one way tweeting without ever checking their mentions. If you feel that I have overlooked you for this list and you are signed up for Klout, please let me know your Twitter handle and I'll be glad to take a look.
@Kauai
@RonWileyKong
@JustinKollar
@RayJGordon
@KauaiTalk
@HoloholoKauai
@KauaiHumane
@Gardens4Life
@DejaVuSurf
@Brenneckes1
@KoloaRumCompany
@KauaiArtist
@ILoveTRKauai
@KukuiGrove
@aFeinPhoto
@YWCAofKauai
@PapalaniGelato
@DoniaLilly
@JudahFreed
@HeidiSiefkas
@JavaKai_Kauai
@KauaiCoffeeCo
@GrandHyattKauai
Thank you to Rob Bertholf for putting together Klokal. Klokal (Klout Local) tracks influencers by Klout score through the Hawaii islands. I got a tweet from him this morning that at this moment I am number one.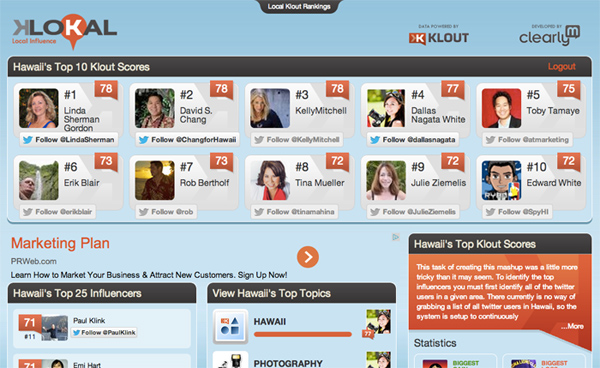 There is an interesting discussion about this article on my Facebook Profile Timeline.
An article with good points about the value of the Klout score for marketing professionals by E Brian Rose.
UPDATE:
Even If You Are Only On Facebook You Can Use Klout
For those of you who are not on Twitter and don't want to be, you can use your Facebook to sign up for a Klout account.
The only downside is that your Klout address will be a number rather than your Twitter user name.
If you are looking for a friend on Klout that is only on Facebook, you will need the exact name they are using. In the case of Steven Domingo (who uses Steven Iban Teva Domingo) on Facebook, I found that "Steve Domingo" got me nothing. His Klout address is https://klout.com/#/user/~4222129417983349 He has connected G+ though he is not very active there. But he is very popular on Facebook. In a few days, Klout had gathered his "moments" and given him a score of 65.
Facebook Klout List for Kauai
Steven Domingo
If you feel that I have overlooked you for this list and you are signed up for Klout, please let me know the URL to your Klout account (in the format I show for Steven) and I'll be glad to take a look.
Facebook Klout List Outside Kauai
Cynthia Gonzalez
Building Your Twitter Network
1. Participate in Twitter Chats.
2. Form genuine relationships with "friendly" people. Here is a list published May 2015 of the friendliest people on Twitter.