The mission of Sustainability Forums Kauai is to generate useful discussions to support sustainability on Kauai. We believe that networking and creating relationships in the Sustainable space is important to its success. We launched on July 20th.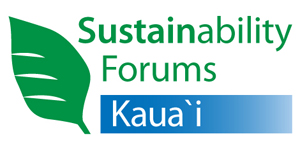 When
Tuesday, October 11, 2011
7:00 – 9:00 PM
Sustainability Forums Kauai meetings are quarterly.
Where
22North Restaurant at Kilohana Plantations
3-2087 Kaumualii Highway
Lihue, HI
Who is Scheduled to Speak?:
Aside from enjoying casual networking with like-minded individuals there will be a circle discussion following a few brief presentations:
Chris Jaeb: Update on Common Ground from the Founder
Kapaa Rotary Green Giant Award for 2010 Recipient: Grand Hyatt Kauai Hotel
Attendee Circle Discussion Topic: What is your top of mind sustainability challenge?
Attendees will offer their suggestions.
Who Should Come?:
Attendees should be seriously interested in sustainability on Kauai.
Social Media for Social Sustainability
Please take a moment to "like" our Facebook Page.
Please support us on Twitter:
These links will make tweeting about us easier:
http://on.fb.me/SFKFBOct11 for the Oct 11 Facebook Event
http://bit.ly/SFKOct11 to refer to this Post
Hash: #SFKauai
Sustainability Forums is a Non-Profit Organization
We are using social media to market this organization, an example of Social Media for Social Sustainability™. This keeps our operational costs low and is kinder to the environment than printing flyers. We also have support from the radio. Ron Wiley at Kong radio is kind enough to give us shout outs. Felicia Cowden and have given us interviews on their KKCR radio shows and continue to provide support. We are also grateful for mentions in printed media.
22North Restaurant, which is itself a truly sustainable venture on Kauai, is our gracious host. 22North will be providing light snacks. There will be a cash bar to purchase drinks at reasonable prices.
Thanks to 22North's support, attendance is FREE of charge.
Please RSVP on the Sustainability Forums Facebook event, or email us at: info at SustainabilityForums.org
Sustainability Forums Co-Founders Jai Roberts and Linda Sherman
Jai Roberts
Jai Roberts owns Honua Lani Gardens and has been growing – and bringing to market – beautiful tropical flowers for many years without using any chemical pesticides or chemical fertilizers. She has always believed in creating living soil, composting, and teaching young people eco-friendly living techniques. Her Honua Lani Gardens hosts participants in the Willing Workers on Organic Farms worldwide program. One of her newest passions is her Garden Cart, where she shares the bounty of her gardens with her friends and neighbors.Jai is Club Service Director of the Kapaa Rotary Club and initiated the the chapter's Green Giants awards program to find and honor the greenest person on Kauai. Find Jai on Twitter @Gardens4Life, Pinterest, Instagram, Google+,Facebook Profile and HonuaLani Facebook Page
Linda Sherman
A resident of Kauai since 2004 and passionate about sustainability, Linda Sherman is known as an international, multicultural marketing guru, bringing a distinguished background of international subsidiary CEO/CMO to her Social Marketing expertise. Linda built, search engine optimized and writes for this WordPress site as well as Our Best of Kauai, Boomer Tech Talk and It's Different For Girls. Linda's company, Courage Group specializes in providing digital film and innovative marketing programs including website development for companies on Kauai like Papalani Gelato and Turtle Cove Suites. Find Linda on Twitter @LindaSherman @KauaiTalk @BoomerTechTalk, and on Instagram, Pinterest Facebook Profile, Google+