Here are some tips to help you with the transition to Timeline for Facebook Brand Pages. All Facebook Brand Pages will go to Timeline March 30th.
I address some basic Facebook points and offer a few precautions at the end of this article for those of you who are still a bit fuzzy on Page versus Profile.
Facebook Brand Page Timeline Design Considerations
Because one of The Courage Group services is design, we quickly made note of the design specifications that Facebook gave for Timeline.
Cover Photo
851 X 315 pixels (851 pixels wide by 315 pixels high)
Facebook instructs that this photo cannot be less than 399 pixels wide.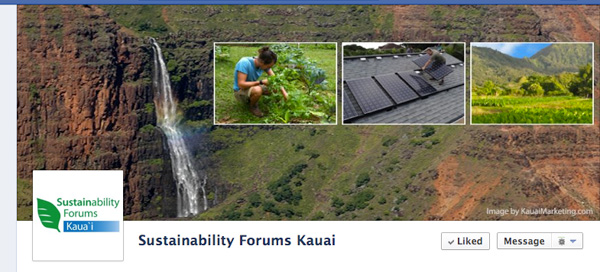 Profile Photo
This sits in the little insert in the bottom left of your cover photo and is also used wherever you comment around Facebook as your Page as well as appearing in news feed stories, ads, and featured stories.
180 X 180 pixels. This will need to scale to a 32 X 32 pixels thumbnail image.
Views and Apps
These are the row of four boxes under your cover photo.
111 X 72 pixels (111 pixels wide by 72 high). 280 X 180 pixels is working well for us.
Milestone Photo
You can add milestones, such as the year your shop opened to your Timeline.
843 X 403 pixels (843 pixels wide by 403 pixels high)
Click on the word "Opened" for a milestone example at this small business Page for Jive Time Records. Though they have added the milestone correctly, the photo they chose isn't wide enough so it shows gray space to right and left of it.
Landing Page for Apps
Page app width can now be adjusted to be Narrow (520 pixels) or Wide (810 pixels) in the Developer App under "Edit App".
Take Advantage of the New Customizable Covers on Views and Apps
Before Timeline, links to your apps were small, now they are very visible on your Page. Create attractive images for these. For instance if you have a newsletter, you could use one of these covers to call out the benefits of your newsletter. The Turtle Cove Suites brand emphasizes the beauty of their experience in Poipu Kauai, so we went with images, rather than words.
You can have a total of 12 apps and views boxes. Photos will always be the first "views and apps" shown but you can control the order of the other boxes. Only the first 4 apps and views will be immediately visible on your Timeline. To see the remaining 8 apps and views, the visitor will need to click the number appearing to the right of the fourth box, which represents the number of additional apps/views. To change the order of the apps click on the pencil in the upper right of the box and choose one of the "switch position with" options.
You can no longer set a default tab for the landing page of your Brand Page but most of your apps should still work under Timeline. Please note that some apps may currently be displaying messages that they are 'currently making adjustments and are not filling new orders at this time.' Being able to provide a direct address to a specific app page within your Facebook Page still works, so you can still send people to your welcome page or a particular default that you want them to see when linking from an external site or email.
How To Customize Your App Images
Click on "Manage" at the top of your Admin page –> "Edit Page" –>Apps –> Edit Settings. Or you can hover over a current app. There will be a pencil in the upper right corner.
It appears that native Facebook apps and views are not customizable. These include: Photos, number of Likes, Notes, Videos, Events and Map. You can tell that an app image is customizable by what you see when you attempt to edit the settings. This is what an app or view that is not customizable will look like.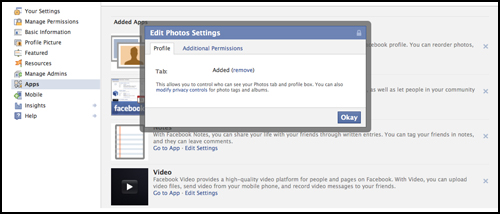 When you click on an app that is customizable, the first screen you see will look like this, except the name of the app will be yours.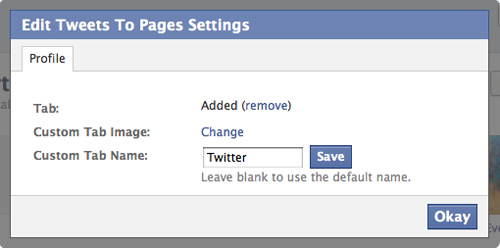 After you adjust the name, if you wish, click on "change" for custom tab image and you will get this screen – of course, with the name of your Facebook Page and the default image for your app.

Now click "change" to be sent to your hard drive to choose a custom image to load. (That image should be 111 X 72 pixels or 280 X 180 pixels).
Direct Messages From "Fans" Are a New, Good Thing
A key component of social media marketing is customer service. You want people to be able to get messages to you. Better that they put a complaint in a private message than on your wall. You cannot direct message someone that has liked your Page unless they message you first. Be alert to responding to these messages and respond in a timely manner.
You can find messages from fans in the top right of your admin page.
Set Your Profile To Be Able To Post As Page and Yourself
Whether you are the creator of the Page or an additional admin, it is useful to be able to comment and "like" as yourself, as well as the Page. You should do updates mostly as the Page rather than as yourself because only Page updates show up in the Facebook Newsfeed of your fans.
In order to be able to choose to post as the Page or as yourself on the Page, you need to make sure that the setting to post only as Page is unchecked. To find this setting and ensure that it is unchecked, click on "Manage" at the top of your Admin page –> "Edit Page" –> "Your Settings".

Note that as a Page, you can comment on the walls of other Pages that you "Like". You cannot comment on the walls of personal profiles.
Facebook Cover Photo Guidelines
Facebook wants the cover photo to be an attractive image. Facebook requires that the image not include your website address, phone number or other contact information, nor a call to action such as a promotion or an arrow pointing to the Like button.
Take Advantage of Adding Links In Your About Box
You have a small About Box on the front of your Timeline below your profile photo to display your About summary. You can fit around 230 characters with spaces here. A link beginning with "www." here will become a clickable link. You can use as many links here as you like, though more than two might limit your ability to write an attractive About message. If you have a physical address for your Page, by default your address, phone number and website will be shown here. But do take the time to fill out your About page completely. To make changes to this section, click on "Manage" at the top of your Admin page –> "Edit Page" –> "Basic Information" –> "About".
Post Regularly
Ideally you should post daily. If you are posting less often than four times a week, that is really too infrequent. On the other hand, if you are posting more than two – at most three times – a day, that is too frequent.
Now You Can Pin One Message for Seven Days
You can now "pin" one important message to the top of your Timeline, which Facebook will retain in that position for a maximum of seven days. On each status update, you can utilize options that include "star" to expand your update across the page and "pin" to put your message at the top of the page.
The Like Button Now Shows as "Liked" and Drops Down to Interest List
The Like Button now shows as "Liked" and drops down to access Interest List choices.
You can seek to take advantage of interest lists with this new feature.
Posts from Fans Go to a Box on the Top Right
This is one of the less attractive new features if you enjoy having fan updates mixed with your own on your Page. Updates initiated by fans are now in a summary list and less noticeable to visitors. Of course fans can still comment on your updates. You will find incoming post notifications on the top left of your admin page. Be sure to monitor those incoming posts and like and respond to them appropriately.
Facebook Offers Now in Beta
Facebook Offers are currently only available to Facebook managed advertising accounts but this is potentially an appealing service for many companies on Facebook. Facebook Offers is a free service, though businesses will be encouraged to pay to broaden the audience for their coupon beyond their current fans. Einsteins Bros Bagels was pleased with the results of their first campaign – 10% of the 32,000 Facebook users who claimed a coupon for a buy one sandwich, get one free offer, redeemed it at a store. Facebook is able to provide data to the company on who claimed and who redeemed the coupons.
*****************
Some Facebook Basics
Facebook Profiles Versus Facebook Pages
Can You Tell the Difference Between a Facebook Page and Facebook Profile?
You can easily identify the difference in this way: Facebook Pages get likes and Facebook profiles have friends. Some businesses and organizations are using Facebook profiles as brand pages, which is actually in violation of Facebook's terms of service. The first name and last name of a profile should be a real person's first and last name. Some have even set up personal profiles for a geographical location – claiming you are a geographical location is not only a violation of Facebook terms of service, it would appear to be unethical as well.
Especially with the new Facebook subscribe feature, it is perfectly acceptable to use a Facebook profile for business if the profile is your personal name not the name of your business. This may be appropriate for many professionals such as realtors.
Never Give Someone Control Over Your Facebook Page
If someone offers to set up a Facebook Page for you, make sure that it is set up with your Facebook profile. You should take the first step to create the Page yourself, and then make them an admin if need be. Or let them sit with you while they help you set up your own Page. You do not need to give anyone your Facebook password for this. It will be much easier to reclaim your Page if something goes awry in the relationship with the admin person you assigned. An admin on your Brand Page cannot access your personal Facebook profile information. You can keep your personal profile as private as you wish.
I am aware of one disturbing story on Kauai where a company set up a Facebook Page for a small business using his company logo. They told him that as a favor to him they would post on that business page. Instead, they did one post benefitting their own company and never posted again. The owner of the business that had this done to him requested access which was not given to him. He finally requested that the Page be taken down, a request which was ignored. This happened in May 2011 and as of March 29, 2012, he was still waiting for the Page to be taken down. If someone ever tells you they have done you this kind of "favor", demand that they remove the Page immediately. Update: Finally in May it was taken down.
***********
Please feel free to share any notable Facebook Brand Pages you've found. We would especially be interested to see those with nice cover images on their apps.